Topical ruxolitinib appears to rapidly relieve pruritus in black patients with atopic dermatitis (AD), in an industry-sponsored analysis of pooled data from two studies.
"Ruxolitinib cream monotherapy for 8 weeks was associated with rapid and significant pruritus relief in black or African American patients with atopic dermatitis and was well tolerated," the study authors wrote in a poster presented at the 2022 Society for Investigative Dermatology (SID) Annual Meeting.
AD can behave differently in different racial groups and can be especially troublesome for black patients. AD has a prevalence of about 20% in black children and 5-10% in black adults. According to the authors, black children are approximately twice as likely to be diagnosed with asthma and develop severe asthma than white children.
Lead author Lawrence F. Eichenfield, MD, professor of dermatology and pediatrics at the University of California, San Diego, and colleagues used pooled data from two similarly designed phase 3 studies to describe the effects of a creamy form of Janus kinase (JAK). 1 and the JAK 2 inhibitor ruxolitinib for pruritus in black patients.
Topical ruxolitinib (Opzelura), 1.5%, was approved last September for the treatment of AD in non-immune-compromised patients with mild to moderate AD aged 12 years and older. Last month it was approved for nonsegmental vitiligo in the same age group.
The FDA approval for the treatment of atopic dermatitis was based on the results of the TRuE-AD1 and TRuE-AD2, double-blind, randomized trials in approximately 1200 patients over 12 years of age with atopic dermatitis. These patients included 292 black adolescents and adults aged 12 to 71 who had had atopic dermatitis for 2 years or longer, with an Investigator Overall Score (IGA) of 2 or 3, with 3%-20% body surface area affected, except for the scalp.
Of 292 patients in two treatment arms (n = 231), ruxolitinib cream was applied twice daily for 8 weeks (0.75% in 118 patients and 1.5% in 113 patients) and 61 applied vehicle. They used electronic diaries to record the worst level of itching they experienced each day, ranging from 0 (no itching) to 10 (worst itching imaginable). The main results were as follows:
Mean pruritus numerical scale (NRS) scores at baseline were 5.3 and 5.4 for ruxolitinib 0.75% and 1.5% cream, respectively, and 5.7 for vehicle. Within approximately 12 hours after first application, the mean NRS pruritus score decreased by -0.6 and -0.7 from baseline among patients treated with ruxolitinib cream 0.75% and 1.5%, respectively, compared with -0.2 for those who accepted the carrier. At day 4, the reduction was -1.4 and -1.6 for ruxolitinib cream 0.75% and 1.5%, respectively, compared with -0.6 for vehicle (P = 0.026 and P = 0.005, respectively, compared with carrier).
On Day 2, among 187 patients with a baseline NRS pruritus score of 4 or higher, more patients achieved NRS pruritus improvement of 4 or more: 6.1% and 16.4% for ruxolitinib cream 0.75% and 1.5% respectively compared to 0% for the vehicle. On the 7th day, the differences were 15.9% and 26.6% versus 3%, respectively. And by week 8, they increased to 30.1% and 43.2% versus 17.5% (P = 0.212 and P = 0.009), respectively.
At week 2, 19% of patients in the 0.75% formulation group and 19.4% of patients in the 1.5% formulation group compared to 5.3% in the placebo group reported no pruritus during the day at question 1 patient-centered questionnaire. (POEM) questionnaire that assessed various aspects of the disease over the previous week. By week 8, the differences increased to 34% and 30.8% versus 12.2%, respectively.
Adverse events reported by 14.4% and 22.1% of patients treated with ruxolitinib 0.75% and 1.5%, respectively, and 32.8% of patients treated with vehicle included headache, upper respiratory tract infection, and pain at the site of application.
Ruxolitinib could be an alternative to systemic immunosuppressants
Asked for comment on the results, Amy J. McMichael, MD, professor of dermatology at Wake Forest University School of Medicine, Winston-Salem, NC, called itching "one of the major life disruptors in atopic dermatitis."
Doctors often assume that patients of different races respond equally to treatment, but that's not always the case, she said in an email to Medscape Medical News.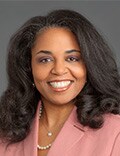 "This study provides evidence for the efficacy of ruxolitinib in black patients, who often present with more severe signs and symptoms of atopic dermatitis," said McMichael, who was not involved in the study. "The fact that atopic dermatitis in patients of color was isolated for efficacy studies is a great way to show that results are not limited to those with thinner plaques and potentially less long-term skin thickening from scratching (lichenification)." she added.
McMichael applauded the absence of systemic side effects and the rapid relief of pruritus with this treatment, noting that the effect on pruritus "is rare with other treatments and extremely rare with other topical treatments."
The effect of topical ruxolitinib on pruritus "was interesting and unexpected because very few topical treatments available can control pruritus," she explained. "The strongest topical steroids can help with itching, but they have a risk of skin thinning (atrophy)," while topical ruxolitinib is not associated with skin atrophy.
"Once topical steroids fail as a first-line treatment, it is likely that more patients will receive this topical medication rather than transition to immunosuppressive systemic drugs," she noted.
All study authors report related relationships with Incyte Corporation, which manufactures ruxolitinib and funds the study, and several authors report employment and company ownership. McMichael reports no relevant link to the study.
Society for Investigative Dermatology (SID) 2022 Annual Meeting: Abstract 287. Virtual presentations May 19 and June 13 to August 14, online.
For more news, follow Medscape on Facebook, Twitter, Instagram, YouTube and LinkedIn.